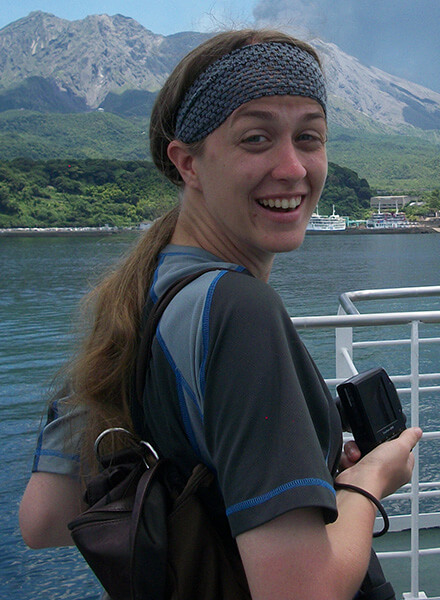 Areas of Interest
Paleoecology, especially of vertebrates
Paleoclimate reconstruction
Stable isotope geochemistry
Mathematical modeling in paleoecology and evolutionary biology
Great American Biotic Interchange
Education
PhD, Geophysical Sciences, University of Chicago, 2017
MS, Geophysical Sciences, University of Chicago, 2014
BA, Geology, Colorado College, 2009
Courses Taught
Physical Geology (GEOL 1010)
Historical Geology (GEOL 1020)
Introduction to Paleontology (GEOL 3410)
Sedimentation and Stratigraphy (GEOL 4310)
Environmental Systems: Landforms and Soils (GES 1010)
Selected Publications
Mine, A.H., Waldeck, A., Olack, G., Hoerner, M.E., Alex, S., Colman, A.S. 2017. Microprecipitation and δ18O analysis of phosphate for paleoclimate and biogeochemistry research. Chemical Geology 460:1-14.
Hoerner, M.E. 2011. Testing for differences in rates of speciation, extinction, and morphological evolution in four tribes of cichlids endemic to Lake Tanganyika, East Africa. Evolution 65(12): 3398-3412.
Fricke, H.C., Henceroth, J., Hoerner, M.E. 2011. Seasonal upland-lowland migrations of sauropod dinosaurs during the late Jurassic. Nature 480: 513-515.
Honors and Awards
2017 Romer Prize Finalist Session Participant, Society of Vertebrate Paleontology
2011 Hinds Fund Award: Grant for student research in evolution
2011 MidAmerica Paleontology Society Outstanding Student Research Award, First Place
2010 NSF Graduate Research Fellowship
2009 McCormick Fellow, University of Chicago
Phi Beta Kappa Membership
Association of Women Geologists Outstanding Student Award
2009 Summa cum laude, Colorado College
2005 National AP Scholar