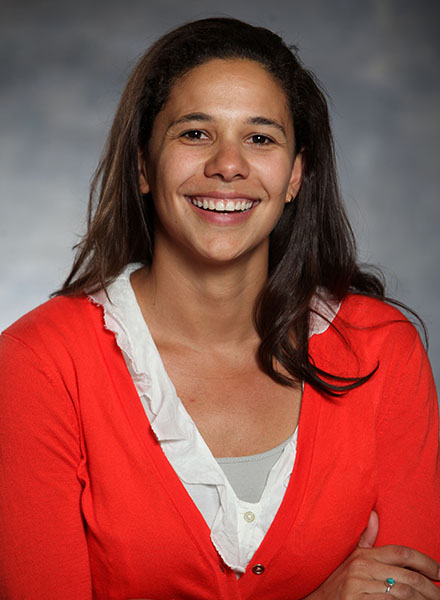 Associate Professor / Graduate Director
Areas of Interest
Social and ecological impacts of land use land cover change
Human-environment dynamics at the interface of agriculture and conservation
Remote sensing
Africa, Latin America and the Caribbean
Education
PhD, Geography, University of Florida, 2011
MS, Geography, University of Florida, 2006
BS, Geography, University of Florida, 2004
Courses Taught
Environmental Remote Sensing (GES4060)
Statistical Analysis in Geography (GES 4000)
Image Analysis (GES4090)
Urban Ecology (GES 4700)
Geography of Africa (GES 3070)
Geographic Research (GES 5010)
Digital Earth (GES2050)
Field courses in Colorado, Guatemala, Mexico, Uganda, Rwanda
Selected Publications
Gibbes,C., Hopkins, A., Inurreta, A., and JImenez-Osornio, J. (2018). Defining and measuring sustainability: A systematic review of studies in rural Latin America and the Caribbean. Environment, Development and Sustainability. 10.1007/s10668-018-0209-9.
Klenk, N., Fiume, A., Meehan, K., & Gibbes, C. (2017). Local knowledge in climate adaptation research: Moving knowledge frameworks from extraction to co‐production. Wiley Interdisciplinary Reviews: Climate Change, 8(5), e475.
Gibbes, C., Southworth, J., Waylen, P., Child, B. (2014). Climate variability as a dominant driver of post-disturbance savanna dynamics. Applied Geography, 53, 389-401.
Hopkins, A., Gibbes, C., Inurreta, A., Rojas, R. (2012). Linking Remote Sensing, Census and Interview Data to Understand Forest Transitions in the Southern Cone of the State of Yucatan, Mexico. Ethnobotany Research and Application, 10, 1-13.
Gaughan, A., Stevens, F.R., Gibbes, C., Southworth, J., and Binford, M. (2012). Linking vegetation response to seasonal precipitation in the Okavango-Kwando-Zambezi catchment of southern Africa. International Journal of Remote Sensing, 33, 6783-6804.
Gibbes, C., Southworth J., Keys E. (2009). Wetland conservation: change and fragmentation in Trinidad's protected areas. Geoforum, 40, 91-104.
Honors and Awards
President's Teaching Scholar (2022)
CU- Next, University of Colorado System Grant (2022)
Fulbright Fellowship, Taiwan (2020)
National Geographic Explorer (2020-2021)
UCCS Faculty Award for Excellence in Research (2017)
NEXUS Fulbright Fellowship, Latin America (2014-2016)
Coupled Human and Natural Systems (CHANS) Fellow (2012)
NASA Land Cover/Land Use Change Research Assistantship (2009-2011)
Social Science Research Council DPDF (2008)
Volunteer and Service
Co-Chair, Committee for Racial & Ethnic Equity, CU System
Student Award Committee, American Association of Geographers
Topic Advisory Panel, Land