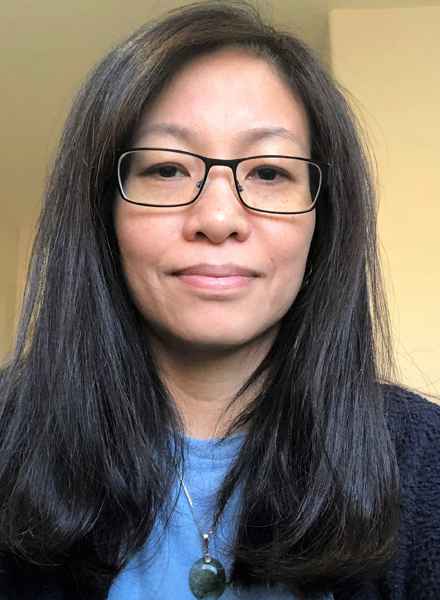 Areas of Interest
Geographical Information Science (GIScience)
Spatial Analysis and Modeling
Spatial Big Data Analytics
Urban Regional Analysis
GPS-based Positioning and Navigation
Education
Ph.D (2013) Geography & Urban Regional Analysis, University of North Carolina at Charlotte
M.Sc (2005) Geomatic Engineering, University of Calgary, Canada
B.E. (2002) Geomatic Engineering, University of New South Wales, Australia
Courses Taught
Introduction to GIS (GES 3030/5030)
Spatial Database (GES 4040/5040)
Geovisualization (GES 4070/5070)
Advanced GIS (GES 4080/5080)
Internet GIS (GES 4120/5120)
Introduction to Geospatial Computing (GES 4130/5130)
Selected Publications
Cleland Z.*, K.A. Dao, and T.H.D. Dao. (2023, In press). Detecting Changes in Spatial Characteristics of Colorado Human-caused Wildfires Using Apriori-based Frequent Itemset Mining. International Journal of Computers, Environment, and Urban System (CEUS).
Dao, T.H.D. and J-C. Thill. (2022). Metric, Topological, and Syntactic Accessibility in Three-Dimensional Urban Networked Spaces: Modeling Options and Visualization. ISPRS International Journal of Geo-Information, 2022, 11, 467.https://doi.org/10.3390/ijgi11090467.
Dao, T.H.D., Thill, J.C. (2021). "CrimeScape: Analysis of Socio-spatial Associations of Urban Residential Motor Vehicle Theft." Social Science Research 101(102618). ISSN 0049-089X, https://doi.org/10.1016/j.ssresearch.2021.102618.
Dao, T.H.D., Gibbes, C. (2020). "The Making of a Mega-region: Regional Development and the Landscapes of Colorado's Front Range Urban Corridor". The Rocky Mountain West: A Compendium of Geographic Perspectives. Washington D.C., American Associations of Geographers.
Dao, T.H.D., Ravesloot, C., Greiman, L., Hargrove, T. (2019). "Mining Spatial Associations between Daily Activities and Health using EMA-GPS Data". Transactions in GIS 23(3). DOI:10.1111/tgis.12539.
Dao, T.H.D. (2018). Rule Learning for Spatial Data Mining. The Geographic Information Science & Technology Body of Knowledge (1st Quarter 2018 Edition), John P. Wilson (ed.). DOI: 10.22224/gistbok/2018.1.3
Dao, T.H.D., and J-C. Thill. (2017). "Indoor Three-dimensional Accessibility Auditing for Computer-aided Architectural Design". Transaction in Geographic Information Systems 2017:1-23.
Dao, T.H.D. and J-C. Thill. (2017). "Detecting Attribute-based Homogeneous Patches Using Spatial Clustering: A Comparison Test". W. Popovich, M. Schrenk, J-C Thill, C. Claramunt, and T. Wang (Eds.) Lecture notes in Geoinformation & Cartography: New Frontiers in Information Fusion and Intelligent GIS: From Maritime to Land-based Research. Springer-Verlag. 37-54.
Dao, T.H.D., C. Ravesloot, L. Greiman, and T. Hargrove. (2016). "Linking Daily Travel Mobility and Pain Experience Using GPS Tracking Data and Ecological Momentary Assessment Technique." American Association of Geographers Annual Meeting, San-Francisco, LA, March 31-April 3, 2016.
Dao T.H.D. and J-C. Thill. (2016) "The SpatialARMED Framework: Handling Complex Spatial Components in Spatial Association Rule Mining". Geographical Analysis 48 (3): 248-274.
Zhou, Y., T.H.D. Dao, J-C. Thill, and E. Delmelle. (2015). "Enhanced 3D Visualization Techniques in Support of Indoor Location Planning". Computer, Environment, and Urban System (CEUS) 50, 15-29.
Dao, T.H.D. (2012). "Global Satellite Positioning System and Applications". In K.A. Dao (Eds) Experimental Methods in Modern Physics, Hanoi, Vietnam: Vietnam Education Publication House, 512-570.
Dao, T.H.D., and J-C. Thill. (2012). "A Comprehensive Framework for Spatial Association Rule Mining". In Proceedings of the 7th International Conference on Geographic Information Science. Columbus, OH, USA. (GIScience 2012 International Conference Student Award)
Dao T.H.D., Y. Zhou, J-C. Thill, and E. Delmelle. (2011). "Spatio-temporal Location Modeling in a 3D Indoor Environment: the Case of AEDs as Emergency Medical Devices". International Journal of Geographical Information Science 26 (3), 469-494.Thill J-C., T.H.
D. Dao, and Y. Zhou. (2011). "Traveling in the Three-dimensional City: Applications in Route Planning, Accessibility Assessment, Location Analysis and Beyond". Journal of Transport Geography 19 (3), 405-421.
Tran M.T., and T.H.D. Dao. (2006). "The Global Positioning Systems: Theory and Applications". Hanoi, Vietnam: Vietnamese Educational Publication. (200 page book in Vietnamese).
Dao T.H.D., P. Alves, and G. Lachapelle. (2004). "Performance Evaluation of Multiple Reference Station of GPS RTK for a Medium Scaled Network". Journal of Global Positioning Systems 3 (1), 173-182.
Lachapelle G., H. Kuusniemi, T.H.D. Dao, G. MacGougan, and M.E. Cannon. (2004). "HSGPS Signal Analysis and Performance Under Various Indoor Conditions". Navigation 51 (1), 29-43.
Dao T.H.D., C. Rizos, and J. Wang. (2002). "Location-based Services: Technical and Business Issues". GPS Solutions 6, 169-178.
Honors and Awards
2012 GISciences 2012 Conference Student Award, Association of American Geographers (among 10 recipients internationally)
2009 G. Herbert Stout Award for Exemplary Student Paper in North Carolina GIS Conference
2008-09, 2012 Graduate Travel Award, University of North Carolina at Charlotte
2008-2012 Ph.D. Graduate Full Assistantships, University of North Carolina at Charlotte
2003 Best Presentation Award, the 16th International Technical Meeting of The Satellite Division, The Institute of Navigation, Portland, Oregon, USA
2003, 2004 Graduate Research Scholarship, University of Calgary, Canada
2003-2005 Alberta Informatics Circle of Research Excellence (iCORE) M.Sc. Graduate Full Assistantships, the Government of Alberta, Canada
1998-2002 The Australian Agency for International Development Scholarship, University of New South Wales, Australia (50 recipient nationally, awarded fully-sponsored 4 year undergraduate study program)
Volunteer and Service
Coordinator, UCCS Undergraduate Certificate in Geographical Information Science (2018 – current)
Chair, The Jacquelyn Beyer Women in Geography Grant Committee (2018 Fall – current)
Coordinator, GIS internship with El Paso Teller 9-1-1 Authority (2016 – current)
Co-coordinator, GES Colloquium (2018 – current)
Member, GES Graduate Review Committee (2016 – current)
Member, UCCS Graduate Research Fellowship committee (2018 - onward)
Member, Steering Committee of the University of Montana Data Science Initiate (2013-2016)
Reviewer
o NSF EARLY-CAREER award in Geography and Spatial Science
o WILEY Publisher
o International Journal of Geographic Information Science (IJGIS)
o Journal of Computers, Environment and Urban Systems (CEUS)