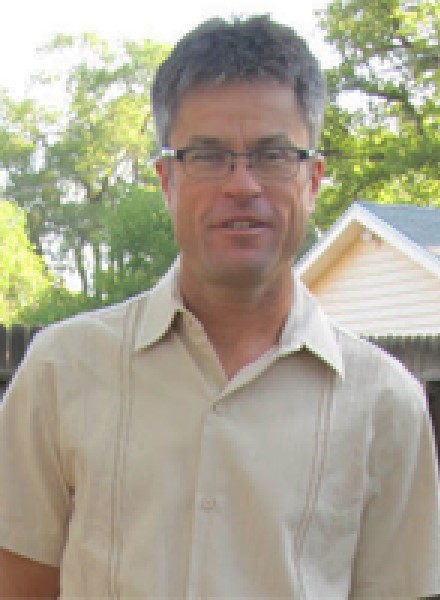 Areas of Interest
Creating Place
U.S.- Mexico Connections and Integration
The American Urban Landscape
Education
Ph.D, Geography, Arizona State University, 1996
MA, Geography, Arizona State University, 1993
BS, Geography, The Pennsylvania State University, 1986
Courses Taught
Geography of Food
Geography of the Pikes Peak Region
Urban Geography
Field Studies in Mexico and Central America
Geography of Mexico, Central America, and the Caribbean
The Cultural Landscape
Introduction to Human Geography
Introduction to GIS
Selected Publications
Harner, John. 2021. Profiting from the Peak: Landscape and Liberty in Colorado Springs. Louisville, CO: University Press of Colorado.
Harner, John. 2020. Who Defines Sustainability? Shopping for 'Reality' in Colorado Springs, pp. 117-130 in Case Studies in Suburban Sustainability, B. Brinkmann and S. Garren, eds. Gainesville, FL: University of Florida Press.
Harner, John, Edith Jiménez, and Heriberto Cruz Solís. 2018. Housing and Urban Growth in Guadalajara, Mexico, pp. 105-133 in Dialogues in Urban Planning 6: The Right to the City, C. Silver, R. Freestone, and C. Demaziere, eds. New York: Routledge
Harner, John, Lee Cerveny, and Rebecca Gronewold. 2017. Participatory Mapping in Browns Canyon National Monument, Colorado (USA). Case Studies in the Environment: cseucpress.edu.
Harner, John, Kevin Knapp, and Leah Davis-Witherow. 2017. "The Story of Us": Place-Making through Public Interaction with Digital Geo-Humanities in Colorado Springs. International Journal for Humanities and Arts Computing 11(1):110-126.
Honors and Awards
2021 J.B. Jackson Award from the American Association of Geographers for Profiting from the Peak: Landscape and Liberty in Colorado Springs. This award recognizes books about the United States which convey the insights of professional geography in language that is interesting and attractive to a lay audience.
University of Colorado Thomas Jefferson Award, 2018
Fulbright Scholar, Guadalajara, Mexico, 2005
Innovations in Teaching with Technology Award, UCCS, 2002
Volunteer and Service
Chair, Department of Geography and Environmental Studies, 2009 - 2015
Board of Directors, Colorado Springs Pioneers Museum, 2019 - 2025