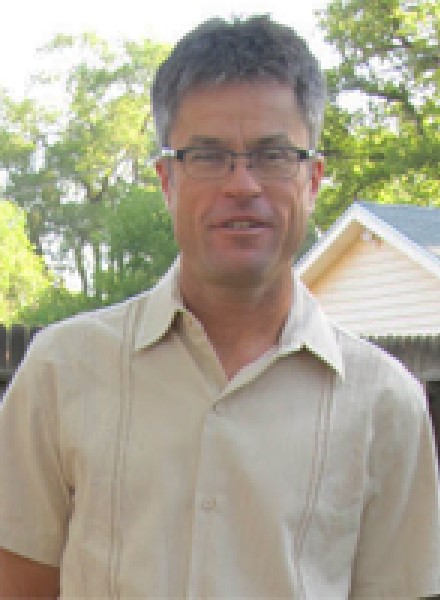 Areas of Interest
Political Economy of Place
U.S.- Mexico Connections and Integration
The American Urban Landscape
Education
Ph.D, Geography, Arizona State University, 1996
MA, Geography, Arizona State University, 1993
BS, Geography, The Pennsylvania State University, 1986
Courses Taught
Geography of Food
Geography of the American Southwest
Urban Geography
Geographic Research Seminar
Field Studies in Mexico and Central America
Geography of Mexico, Central America, and the Caribbean
The Cultural Landscape
Introduction to Human Geography
Introduction to GIS
Selected Publications
Harner, John, Lee Cerveny, and Rebecca Gronewold. 2017. Participatory Mapping in Browns Canyon National Monument, Colorado (USA). Case Studies in the Environment: cseucpress.edu.
Harner, John, Kevin Knapp, and Leah Davis-Witherow. 2017. "The Story of Us": Place-Making through Public Interaction with Digital Geo-Humanities in Colorado Springs. International Journal for Humanities and Arts Computing 11(1):110-126.
Harner, John. 2014. UCCS in the regional context, pp. 209-225 in Discovering Place: A UCCS Field Guide, T. Huber and C. Huber (eds). Colorado Springs: University of Colorado
Kuby, Michael, John Harner, and Patricia Gober. 2013. Human Geography in Action, 6th Edition. New York: John Wiley and Sons.
Benz, Bradley, and John Harner. 2013. The Growth of Ranchettes in La Plata County, Colorado, 1988-2008. The Professional Geographer 65(2):329-344.
Harner, John, and Frank Kinder. 2011. Placelessness in a Deregulated City: University Village in Colorado Springs. Urban Geography 32(5):730-755.
Harner, John. 2010. The Changing Location of Trade and Services in Guadalajara, Mexico, 1994-2004. Geographical Review 100(4):494-520.
Harner, John, Edith Jiménez, and Heriberto Cruz Solís. 2009. Buying Development: Housing and Urban Growth in Guadalajara, Mexico. Urban Geography 30(5):465-489.
Honors and Awards
University of Colorado Thomas Jefferson Award, 2018
Fulbright Scholar, Guadalajara, Mexico, 2005
Innovations in Teaching with Technology Award, UCCS, 2002
Volunteer and Service
Chair, Department of Geography and Environmental Studies, 2009 - 2015
Board of Directors, Catamount Center for Geography of the Southern Rockies
Board of Directors, Colorado Springs Pioneers Museum